It's Chenin Blanc Day so we're introducing you to an example of this white grape that wowed us…
Chateau du Plaisance Anjou Blanc 2019, France

Meet Vanessa Cherruau.
Vanessa makes wine in a particularly special place in the Loire Valley. She has a vision, she's something of a live-wire and, in the very best traditions of her forebears, she's in the process of leading a revolution!
Vanessa has vineyards in two of the Loire's most important appellations, the Grand Cru Quarts de Chaume and the neighbouring Premier Cru Chaume. Although tiny, these two appellations are proper, doff your cap, tug your forelock, don't speak until you're spoken to, vinous aristocracy. Internationally recognised nobility. The big league. Vanessa has only recently taken over at Château de Plaisance but she's making waves in the region straight away. We've not checked her personal politics but what she does with these upper class grapes is definitely a bit radical socialist. She declassifies them… right the way down to everyday, common or garden Anjou Blanc status… That'll teach them!
Quarts de Chaume and Chaume you see, are appellations exclusively for sweet wines and Vanessa (mainly) wants to make dry wines and very passionately believes that her unique terroirs offer the potential to make some of the Loire's very finest dry wines at that. We've tasted all of the wines she has released so far and we're not going to argue. This is one of the most exciting estates we've found, not just in the Loire, but in France as a whole, for quite some time!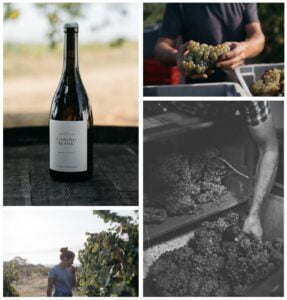 The thick end of £20 a bottle for an entry level Anjou Blanc looks a bit toppy on the face of it doesn't it? But this is one of those where we're going to look you in the eye and just say, 'Trust us'. You're definitely not going to be unhappy with this particular purchase. It's beautifully precise for such a richly textured wine. There's peach, a touch of honey, a sense of late summer meadow, the characteristic waxy/lanolin feel of Chenin Blanc and there's a sense of gentle movement and energy in the wine as well… it's all held together and focussed with a little crackle of fresh lemony acidity and finishes long, fine and dry… and its beautifully presented to boot!
Have we convinced you to try it? Click here if so!